Special edition in CD+Slipcase format with completely remixed and remastered audio. Features an unreleased song ("Separati dal contagio") recorded by Alberto The Crippler and Walter Dr. Tomas as a jam session during the recording sessions of the album and later enhanchd with an exclusive featuring of Anima Morte. GRINDCORE!!!

Second full-length album of Czech Critical Madness. Ultra brutal Death / Goregrind.

our previous price:
9.90 EUR
Fear is always rooted in uncertainty, and the resulting sensation is a bodily affliction as much as a mental one! We invite to the experience of pain and paranoia, bloody dismemberments, burrowing in bowels, pure horror and fear when Goregrind bands CROPSY MANIAC (US) and GRUESOME STUFF RELISH (Spain) start to dismember each other!

CROPSY MANIAC have Kam Lee, Dave Ingram and Jonny Peterson on guest vocals!

Limited edition of 500 Mini-CDs in the real cult 3 Inch format with 6-panel-folder.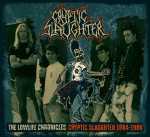 This project has been years in the making to reach the best possible result. A nearly 2 hours DVD tracing the band's history from 1984 till the Stream Of Consciousness era in 1988. Includes tons of live footage and exclusive interviews with band members and other musicians (MUNICIPAL WASTE, REPULSION, HATEBREED, FEAR FACTORY, HIRAX etc..etc…). And there's more… a CD full of rarities (rehearsals, outtakes etc) and soundboard live material selected from 9 different shows 1985-1988, ranging from the early Life in grave times to the Convicted and Money Talks sets.

31 SONGS of the fastest and most influential US Hardcore / Thrash ever conceived! Housed in a 8-panel digipack including 2 booklets packed with rare photos, flyers and original artworks. As we always say: if you're into any kind of fast music be it Thrash, Hardcore, Grind or Power Violence, you are M.A.D. if you miss any Cryptic Slaughter release!
CD & DVD in fold-out digipack with 19-page booklet (glued on the left side) and 23-page (glued on the right side).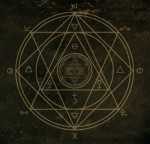 French doom worshippers

Brutal death metal from Czech Republic, for fans Morbid Angel, Cannibal Corpse ... Recording in Davos studio!!!!!

"Traced in Air" is the second full-length album by the progressive death metal band Cynic. It is the first album since their 1993 debut "Focus". Discovering this unbelievable piece of music is an amazing journey from the deepest peace to the purest aggression, expect the unexpected!

our previous price:
12.90 EUR