Splitter with swedish grindcore at it's finest. Eight new rounds of groovy chaotic tragedy grind for your pleasure. plus F.U.B.A.R.: Fucked Up Beyond All Recognition! 12 new fast and furious grindcore songs with a crusty toutch!

FACE DOWN (formerly known as Machine God) is a Thrash Metal / Death metal band from Sweden, founded in 1993, disbanded in 1999 and found again in2004. Contains previously unreleased tracks from FACE DOWN and brand new killer tracks from the death/grinders REMASCULATE (Insision, ex Demonical members). Limited to 2000 copies!

our previous price:
11.50 EUR
Recorded and mixed between 18-21 December 1995 and 07-09 March 1996. First studio album of Falkenbach.

Hailing from California/USA the Swe-Death Metal worshippers are back with their first "real" album. Remember, the debut "The Depths Of Inhumanity" included just re-recorded demo songs. On "The Bitter End" you'll enjoy very brutal, authentic and catchy Death Metal with passion in the vein of DISMEMBER, NIHILIST/ early ENTOMBED and the other good old ones from the end 80's, early 90's Swedish scene. Listen to "The Bitter End" , close your eyes and hit the train to a journey back in time, full of filth, blood, leather, spikes and rotten Death Metal tunes!

The Swedish viking black metal band Fimbultyr is back after their highly acclaimed debut album "Gryende Tidevarv". After a few years of silence they released the single "Oförgätlig Erinran" in 2015 which was well received by both fans and metal magazines. Now the album "Niddikter" is finally ready to be unleashed.

If you haven't heard them before you may be in for a bit of a surprise as they lean closer to Pagan or Black Metal or even some Power/Thrash than maybe Viking Metal given their name/appearance. I can honestly say I can't think of another band that has as unique a sound as they do. There is more melody here than you may hear upon an initial listening so you may have to give it 2 or 3 plays to hear all of the subtleties. Vocalist/Guitarist Stephan alternates between a growl and tenor vocals which give a nice variation to the feel of the album especially on songs like "Uralt" and "Hexenwerk". I think what holds this album back is the mix, where the vocals are too much in the front and overwhelm the instrumentation in some instances ("Wüste Wahnsinn" and "Fesseln der Asche" come to mind) The rhythm section of Andreas on drums and Steffen on bass are extremely talented and get buried in the very midrange mix so that is why you may need to give it a couple of listens to hear everything that is going on. Guitarist Christian shines during his solos and luckily cuts right thru everything else. Ultimately Fimbulvet have a one-of-a-kind sound that makes them instantly recognizable from the numerous bands out there but I believe they need to consider some different recording options for future music.
This A5 Digibook is limited to 500 copies.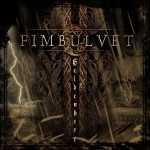 "Heidenherz" is the new edition of the 2006 debut album "Ewiger Winter" in a luxurious 2-CD Digipak! The second album "Der Ruf in goldene Hallen" and four new recordings are added as a bonus. First-class Pagan Metal and not only for fans of the four heathen of FIMBULVET an absolute must have!


Fimbulwinter is a very curious band, under some points of view: it's one of the very first Norwegian black metal bands of all time (active around 1992-1994).
The most interesting thing about this band is that, in the lineup, there were featured two musicians that were going to become very famous in the future black metal scene: Skoll (later in Arcturus, Ulver and Ved Buens Ende) and Shagrath (of Dimmu Borgir fame). The latter, especially, was destined to become one of the biggest mainstream whores of black metal... but, for all the elitists who think that the members of Dimmu Borgir, Ulver and Arcturus never had a 'true black metal' background and just hopped on the bandwagon right from the beginning, this is a severe slap in the face.

Southamerica limited edition in a special Digipak!!! Re-released as a 4 panel deluxe digipack limited to 875 copies, including info poster, photo cards of the band and an ownership certificate.

8th album of these Czech Brutal Death Metal masters!!! Aggressive, intense and melodic death attack!!!

FLESHLESS are undoubtedly one of the leaders of brutal death metal from Czech Republic! "Free off pain / stench of rotting heads" contains the split with MASTIC SCUM and the first FLESHLESS demo from 1993 on one CD.


our previous price:
11.90 EUR
"December" ist nach 3 Demo-CDs das Debütalbum von FOR RUIN und bietet melodischen Black/Death Metal, der zeitweise an Children of Bodom erinnert.


our previous price:
11.50 EUR
When people talk about death metal from Finland, the names that are always brought up as the best are the usual culprits of Demigod, Convulse, Amorphis and Demilich, but what about Funebre? "Children of the Scorn" is the only full-length album that Funebre ever recorded, which is unfortunate because this album is great and severely underrated. I'm still not sure why these guys aren't as cherished by the metal underground, especially since this album preceded any of the now legendary records that those other aforementioned bands released.

Album from 1991 Re-Release in 2017 on CD with Bonustracks (Demo 89+Demo 90).

Funeral were formed by Eric Cutler when Autopsy split along with Autopsy/Death member Steve Digorgio. The CD contains the never released demo from 1996 and a rare instrumental rehearsal from 1996. The material is in a similar vein to "Fiend For Blood" and "Acts Of The Unspeakable" with Eric's trademark creepy riffs and gloomy atmosphere throughout.This is a truly obscure gem of mid nineties Death Metal!