With "Deutschland Von Vorne" the punk Grinder JAPANISCHE KAMPFHÖRSPIELE put out a cover EP with eight tracks of various German (mostly punk) bands in their own inimitable way. The songs are just fun, because they are on the one hand JAKA-typical, with highly-focussed and creative instrumental riffing, funky guitar playing as well as the well-known twin vocals of Bony and Paul, but involve on the other hand a thick dose of punk attitude and a lot of grind and hardcore energy. Catchy, yet absolutely merciless, that´s the way it should be.

Japanische Kampfhörspiele plays no longer Grind Punk on "Smoking and Yoga", here rules "Popgrind"! The songs could hardly be more different: here´s everything from mid-tempo to grindcore, so one doesn´t get bored. A fat production allows to enjoy all the intricacies of the CD, nothing gets lost in a mush of sound. Half an hour of superb and above all tongue in cheek entertainment that can be warmly recommended to every Grindfan with some humor.

Just when you thought grindcore had run out of surprises, along comes a psychotic headcase of a record like Japanische Kampfhörspiele's Fertigmensch E.P. Over the course of 22- pummeling minutes, German-croaked blasts like "Alle Wollen gut Aussehen (Und Tun Es Nicht)" and "Fan Von Gar Nichts" are vomited forth with indescribable fury, their ultra-precise hypercussion slicing like knives through each guitar riff's succulent meat. "Scheisse der Lehrer" is an irresistible shout-along -- whatever it means (actually, it's "Teacher's Sh*t") -- and the disc's final pairing of tracks actually bucks the unofficial two-minute limit observed thus far to flirt with silent patches, electronic effects, and even tape loops. Altogether, they help make Fertigmensch more diverse, memorable, and exciting than many albums twice its length.

German destroyers Japanische Kampfhörspiele decided to stick with their guns. The DIY recordings are all included in their original form, giving fans that caught on after 2003's breakout, Fertigmensche, the opportunity to peer into the past and revisit these raw underground gems documented between 1998 and 2002. Twenty-eight tracks from a number of sold-out pressings and four demos later reworked and officially released come together for an entire hour of skull crushing good times. The album stands as a fine gauge measuring exactly how their songwriting has developed into the increasingly complex but perpetually punishing auditory mayhem that characterises their work today. Hopefully this consolidation can cement the depths of JaKa's talent in the realm of disbelievers and though traditionally overlooked, garner the attention they deserve.

13 tracks of over the top quirky and frenetic grind from this German act. This is a little more out there than their last EP, building around a similar foundation of speedy grindcore, but coming off as totally frantic with unexpected shifts between burly, groovy brutal death metal, energetic crossover hardcore/punk, straight up classic grindcore, moderately chaotic and technical riffs, and then some... all within songs that average around two minutes each! The vocals shift from insane high-end screams with a little distortion to vicious low growls, often layered together for added effect, so the complete picture is one that's kind of all over the place, but effectively so, and with really tight performances.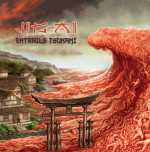 With "Entrail's Tsunami" the Prague Gore / Grind Trio returns to the fray 5 years after "Rising Sun Carnage". Completely in the tradition of the Killerband, Jig-Ai know no mercy even on their 4th album & deliver exactly what you expect in a "Entrails Tsunami", 21 kicks in the face, the guys stay in the tight absolutely loyal for half an hour, they creak and claw their way through the wild events. Friends of Jig-Ai know which food is served, a nice guts tsunami & that is again extremely delicious!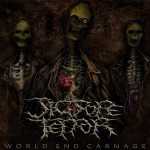 Jigsore Terror from Sweden is a Grindcore band born in 2003 with members of bands like General Surgery, Entrails, Birdflesh etc... they are really well know into the underground scene.

Disc 1 is a re-mastered version of the album. Disc 2 includes all songs from their unreleased demo from 2003 with different vocalist and iis only partially printed (transparent border!)
Comes in a deluxe cardboard digipak with a slipcase cover and contains a sticker.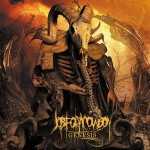 Massive death metal from Arizona. Although JOB FOR A COWBOY are still considered to play deathcore, "Genesis" is an absolut death metal bulwark. Heavy riffing, evil growls, blast beats and minimal breakdowns. With "deathcore" JOB FOR A COWBOY have nothing more to do any longer, what is offered here is Technical Death Metal with some modern influences.


This is just solid, ugly black metal through and through. Unlike some of Akenhaten's other output, there is hardly any melody to be found here. Just cold, dissonant, harsh tremolo riffing. Mostly fast black metal with some slower sections, but always monotonous, dark riffing. The percussion follows along with the repetitive nature, and is certainly serviceable. The vocal performance is excellent, par usual for this man. Songs are difficult to distinguish from one another, which is actually a positive given that this album should be listened to all the way through in one sitting. The new release is a beautiful digibook, with Akenhaten's message and interesting pics, but no printed lyrics. Metalheads that eat up melody should stay far away. But those who are looking for a grim experience will find much to enjoy.

Deluxe Digibook with silver print. Written December 1996, Nurnberg, Germany under a cold ancient night's sky. Recorded March 1997.