Obscenity are a German brutal death metal band from lower Saxony, and being long runners in the scene all the way back in 1989, they have quite a catalogue to their name. The newest edition is "Retaliation," their ninth full length album. The music of this German five piece is dark, chaotic and intimidating. Having been a part of the death metal boom in the late 80's, Obscenity play unadulterated death metal, while not resisting a few modern upgrades to the sound. No specific sub genres of death metal is focused on and the music borrows elements from other variants of the style like brutal death metal and melodic death metal.

CD in jewelcase with 12-page booklet. US Pressing!!!

Digibook CD
Obtest from Lithuania are one of the more unique pagan folk metal bands. The music is really fast and very melodic which causes the album to be amazingly catchy, memorable and simply damn good. The music is far too aggressive to be traditional metal although it certainly has that aspect to it. There are also enough near-Celtic Frost moments for this album to be called black metal.
This is the A5 Hardcover Digibook edition, limited to 1000 copies.
Old Man's Child is a metal band from Norway, whose style evolved from earlier death metal influences in a symphonic black metal with typical thrash metal riffs. "The Pagan Prosperity" from 1997 is a truly magnificent black metal work full of dark emotions. It's not Black Metal that only relies on speed, it gets its energy from groove and atmosphere.

"Sacro Culto" is the second album by Opera IX. It is widely considered by members of the black metal underground to be the finest of Opera IX's albums, with the track "My Devotion" being considered one of the greatest fusions of black and doom metal ever.


With no doubt, the world is doomed to death! Terrible, but we're the ones who present the soundtrack to the world's end. Ophis is a international synonymous for raw, nihilistic and intense Death-Doom Metal from Germany with their new album. The album was recorded, mixed and mastered at Blastbeat Productions Studio, Kiel (Germany) and produced by Oliver Carell and Ophis. The tasteful cover artwork was painted by the artist Evelyn Steinweg.

Origin - antithesis, Hyperblast Death Metal!!!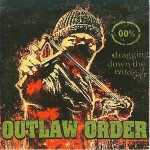 Outlaw Order - dragging down the enforcer, limited Metal Box.

our previous price:
16.90 EUR
This disc features rare demo tracks and some Live material as well, including the Overkill EP, the Power in Black Demo, a live promo, Live 'kill and four songs recorded live in Europe. Tracks 5-9 are from the 'Power in Black' Demo. Track 10 and 11 are recorded Live at the Ritz in New York City on January 27, 1990. Tracks 12-15 were recorded live in Europe, 1986.

Southamerica edition, included Live material!!!

Overtorture - at the end the dead await, Death Metal.

our previous price:
9.90 EUR