Full length album from Brutal Death Metal masters, Waco Jesus!! Waco Jesus is bringing back their sadistic dark roots of Scum Grind terrorism with their fifth full length release "Mayhem Doctrine." It punishes with a brutal onslaught of pit driving riffs, wicked as fuck breaks, ferociously aggressive and hateful vocals that leave listeners emotionally sodomized. Misogyny once again dominates the visual and lyrical aspects of Waco Jesus' chaotic and relentlessly intense new masterpiece. Get it and have your thoughts pummeled into submission while your girlfriend, mother and grandmother are maniacally raped and crucified by a band without remorse.

"HELL IS OPEN...AGAIN! New WARHAMMER full-length studio-album "NO BEAST SO FIERCE...", containing 11 brand-new tracks, available now. First album in 8 years, the wait is finally over. Total Deathdoom from Germany's Unholy Brigade."

Brasil Pressing!!!

WATAIN have managed to create with "Casus Luciferi" a work that is fresh and forward-thinking, but doesn´t disregard the old glory days of other infamous acts. This album is one of the better albums in 2004 and it is essential for all fans of DISSECTION and for black metal fans in general.

With "Lawless Darkness" WATAIN undoubtedly remain at the forefront of Scandinavian black metal and creates through an incredible amount of feeling for the subtleties and devotion to detail Black Metal hymns for eternity. A pitch-black masterpiece!


"Rabid death's curse" is the first studio album by the black metal band Watain from 2000. The roots are clearly in the extremely aggressive and uncompromising Swedish black metal of the early and mid-nineties, comparable with The Black, Dark Funeral and of course early Dissection. "Rabid death's curse" is considered a classic and was featured on German Rock Hard magazine's list "250 black metal albums you should know".

CD1 - Rabid Death's Curse 2000
CD2 - Casus Luciferi 2003
CD3 - Sworn to the Dark 2007
CD4 - Lawless Darkness 2010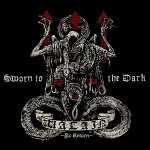 "Sworn to the dark" by Watain has a top production that brings out the power of the riffs, vocals, and drums. Almost one hour of great black metal compositions between traditional black metal minor chord harmonies to monster groove.


EP sized package containing!!! CD with seven Bathory hymns performed live by Watain, Large fold-out poster, Extensive liner-notes, Sticker, Resistant crystal transparent outer sleeve - Fold-out inlay with the CD sleeve, Fold-out EP cover, Printed in gold and black, Limited to 500 copies.

After 3 years of abstinence and a change on the guitar, WEAK ASIDE is back with album number 3 which is entitled 'Forward Into Darkness'. The album name says it all, the German Death Metal flagship presents 10 crushing and explosive battle hymns that leaves the listener curdling the blood. 'Forward Into Darkness' was recorded at Desert Inn Studio and mixed, mastered by Jörg Uken at Soundlodge Studio. Necromaniac Artworks is responsible for the great artwork.

CD Digipak limited to 500 copies!

Doom / Death Metal band. Disbanded after releasing the only album "Into Darkness" and the "Eternal Frost" EP. Guitarist Stephen Flam was also active in Thorn.

Limited edition to 300 copies only. First time pressed on CD format!

The Swedish D-beat Crustcore Icons Wolfbrigade with their killer album "comalive" as digipak CD. Angry Scandinavian Hardcore / Crustcore blasts with a slight impact of Metal!


WOUND will be back in January 2017 with their new 8-tracker entitled "Engrained". Classic outstanding blackened Death Metal from Germany. No namedropping needed here, "Engrained" stays for itself, pure passion, tons of musical emotions combined in 8 new songs. Today we present the great coverartwork, made by the amazing german artist Waeik who was also responsible for the previous Wound artworks.

Finnish Pagan Black metallers Wyrd with their seventh album "Kammen ." Overall, the album is rather kept in mid-tempo with doomy insoles. Old Katatonia slices are comparable, so the Katatonia cover doesn't really come as a surprise. "Kammen " is an album on which very powerful death metal offset pieces are so explored with melancholy black metal and folk moments that the listener is never ripped out of the atmosphere, but still gets a few barrel-heavy riffs carved around the ears.

our previous price:
11.90 EUR