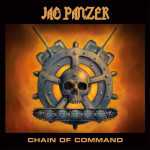 "Chain of Command" was written and produced to become the second Jag Panzer studio album. "Shadow Thief" was Jag Panzer's third demo, after the debut full length "Ample Destruction" which was released on Azra Records back in 1984. Two years later this demo saw the light of day and laid the base for the band's second album "Chain Of Command", which was recorded in 1987, but remained officially unreleased.

Limited transparent orange crush vinyl, 425gsm heavy gatefold cover, 580 x 580 mm poster, bonus tracks, All tracks remastered and partially restored from digital transfers of the original studio tapes.

These eight demo recordings by US heavy/power metal act Jag Panzer were originally released in 1986. Now as a vinyl version available.

Limited to 250 copies in clear royal blue vinyl.

Despite being one of the top bands in the American power metal scene, Jag Panzer has had its share of ups and downs in its 30-year history. On the 9th album "The Scourge Of The Light", all material has great mementos of the 80s and has several cool fusions of both progressive type passages with traditional Metal straightforward attacks. The leading section of the album by the band's constant vocalist, Harry "The Tyrant" Conklin, keeps on being strong and amazing as if the years just passed him by. Jag Panzer ckeeps the old school in American Metal alive.

Limited pressing in clear dark green wax comes in a gatefold jacket.

our previous price:
19.90 EUR
The "Tyrants" EP and especially the first and up to then only album "Ample Destruction" were said to be real masterpieces of US Metal. In fact, it was hard to find out if those rumors were true. You weren't really able to buy their records in Germany, since they were put out by the obscure and meanwhile infamous Azra / Iron Works label, who had such a bad distribution, that their records practically never reached our side of the great ocean. Now as a vinyl version available.

Limited to 300 copies on white - red splatter Vinyl.

Japanische Kampfhörspiele - a tribute to Japanische Kampfhörspiele, Grindcore ala Death Metal.