Limited edition of 500 copies. Comes with full colour LP-sleeve, lyric sheet, alternative artwork.

"HELL IS OPEN...AGAIN! New WARHAMMER full-length studio-album "NO BEAST SO FIERCE...", containing 11 brand-new tracks, available now. First album in 8 years, the wait is finally over. Total Deathdoom from Germany's Unholy Brigade."

2-LP

Watain - sworn to the dark, Black Metal masterpiece.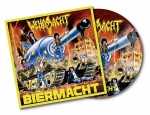 Pic-LP

Wehrmacht - Biermacht, the second masterpiece limited Picture Disc LP edition, only 400 pressed!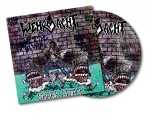 Pic-LP

Wehrmacht - shark attack, classic debut "Shark attack" (1987), a milestone of furious Thrash/Speedcore. Picture vinyl edition comes in a noble gatefold, limited to 400 copies.
I swear I feel that Wilt is more "doom" oriented than I do, as it would be for black metal. Even though, there is a ton of atmosphere on this album, it still has more of a "doom" feel. For the first few minutes on the first track "Illusion of Hope", up until the mark, you get straight up, mesmerizing, very groove-oriented doom metal. Extremely, very slow guitars and drumming, I mean intensely slow. Then, this is where the atmosphere really picks up, and Jordan scream-sings with such demanding force, you can actually feel the power of it! At you get that "groove" feeling again, where it's just so pleasantly oscillating. This song is really something of pure splendor. I mean, when you can actually feel the force of not just the vocals, but the music in itself, that's really something special, as is their album Moving Monoliths.

Limited to 400 copies in deep black wax.

Witch Cross - axe to grind, cult Heavy Metal from Danmark.

Witchery is a Swedish thrash/speed metal band, formed by former members of Satanic Slaughter in 1997. Witchery quickly gathered a cult following with their combination of serious, technical thrash metal and all topics "dead". Their strictly tongue-in-cheek humour, often involving executions, murder, necrophilia, resurrections and other morbid topics can be spotted in song titles and album names as well as in their very own mascot - an animated skeleton called "Ben Wrangle."

Symphony For The Devil is Witchery's third full-length studio album. It was released in 2001 and has received underground acclaim from metal fanzines and webzines. The album continues in the style of previous Witchery releases, with thrash metal riffing and solos, but with a black and death metal influence. This album sees Martin Axe of Opeth on drums, after the departure of former Witchery drummer Mique.

Limited double vinyl edition in clear wax!!!

LP

Witchgrave - s/t, pressing in white wax limited to 300 copies. Devil Heavy Metal from Sweden in vein of old Venom, Angel Witch and Hell.
LP

Black-Trash Metal
WOUND will be back in January 2017 with their new 8-tracker entitled "Engrained". Classic outstanding blackened Death Metal from Germany. No namedropping needed here, "Engrained" stays for itself, pure passion, tons of musical emotions combined in 8 new songs. Today we present the great coverartwork, made by the amazing german artist Waeik who was also responsible for the previous Wound artworks.
Limited to 300 copies in black wax. Vinyl comes in gatefold sleeve + download code!!!